'Into the Unknown' Encaustic
Oct 22, 2017
Below is my latest painting titled 'Into the Unknown' measuring 12 x 12 inches. The medium is encaustic wax on wood panel.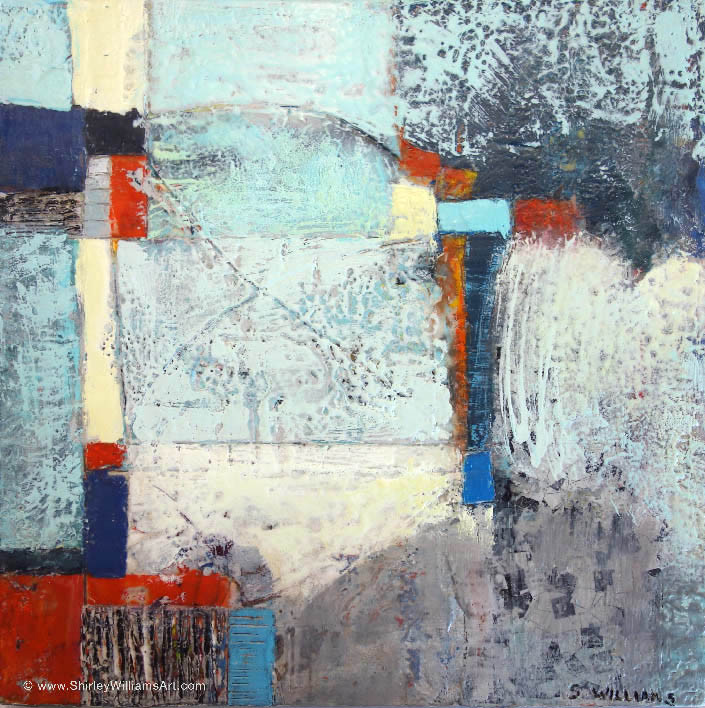 'Into the Unknown' #1701 encaustic on wood 12 x 12 inches © 2017 Shirley Williams $390.
Usually my preferred medium to paint with is acrylic on canvas. But every once in awhile it's fun to challenge myself by working with encaustic wax on wood.
I spent a week in New York in 2005, learning how to properly use encaustic wax paint at an R & F Encaustic Workshop. Ever since I occasionally go through periods when I focus on it exclusively.
Encaustic wax has such a seductive surface. And the textures you can create with layers of wax are endless. The surface can be carved, melted drawn into and collaged.
But in spite of these obvious attractions, I always go back eventually to using acrylic. Acrylic paint simply allows me to be more spontaneous with larger areas of color.
Creating with hot wax can sometimes turn into a wrestling match for me. That's because it get's cold and hard the second it leaves the hot plate. This means it's impossible to do large sweeping strokes.
As a result, it's always less of a struggle to work on 12 x 12 inch wood panels, as seen above. Yet I recently tried out a gigantic 28 x 80 inch encaustic painting. Check out the posts below for more.
CLICK HERE Read about "My Encaustic Process"
CLiCK HERE See my large 28 x 80 inch encaustic over a sofa