Feeling Grateful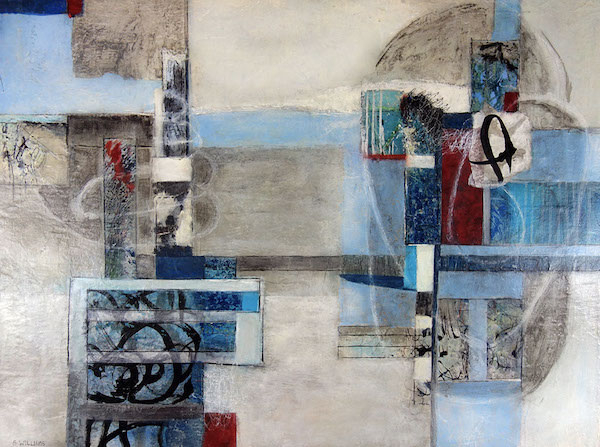 'Making Connections' acrylic on gallery wrapped canvas, 36"h x 48"w © 2020 Shirley Williams SOLD
August 19, 2020
The Studio Gallery has only been officially open for two weeks. Already, I'm humbled, and grateful for the positive response.
Before the pandemic, I had looked forward to hosting a grand opening party for everyone who has helped me along the way, such as clients, colleagues, friends, and family. The plan was to open the glass garage door, set up a tent, host some live music, and offer snacks and libations.
But alas, it was not to be due to Covid. Maybe in the spring????
Instead, I opened with very little fanfare, thinking I'd ease into things gradually. Between Covid and a quiet opening, I was prepared for a very slow season. Reasoning it would give me more time to paint, I was eager to get back to a normal creative routine in the studio again. The mess and upheaval during the studio renovation had kept me from being able to paint from the end of March to mid-July.
During the renovation, I occasionally had doubts about my decision to build and open The Studio Gallery. As the costs and to-do lists increased, so did my anxiety. Although I've owned and run businesses before, this one is a bit different. Not only was I about to open a gallery that sells original paintings and prints during a pandemic, but, I'm also the one who creates and prepares the art I sell.
My thoughts were, "Can I do it?" "Will anyone come?" "Does this even make sense?"
All those doubts soon vanished by early August. The slow season I'd expected didn't materialize.
Instead, since then, several large paintings have gone to new homes, as well as some smaller scale originals and canvas prints.
Plus, the renovation streamlined my studio to be more efficient creatively. Everything has a place, and every tool I use is close at hand. This has resulted in making my painting time even more effective than before. I'm very excited about the new large canvases I've been working on the past few weeks. You'll be seeing them soon.
The first sign that I needn't worry about my new storefront art gallery, came a few days before I officially opened. This wonderful surprise began a trend, for which I am deeply grateful.
At the beginning of August, Award-winning interior designer Tim O'Neill of O'Neill Harrington Interiors came to view my larger-scale canvas paintings, with his clients. This lovely couple just finished building their stunning dream home. They were now ready to add the magic of original art to their walls.
They really liked this 1 x 6 foot "skinny" painting "Long Words", and had just the perfect spot in a stairwell, for it.


'Long Words' acrylic and mixed media collage on gallery wrapped canvas, 12"h x 72"w © 2019 Shirley Williams SOLD
Even though they didn't know if two others they liked would work out, they considered them as well. So, they decided to take all three paintings home on approval to try them out.
To my utter surprise, I received a call the next day to let me know, they had decided to keep all three. I was delighted that these three paintings had found a gorgeous new home with people who truly appreciate original fine art.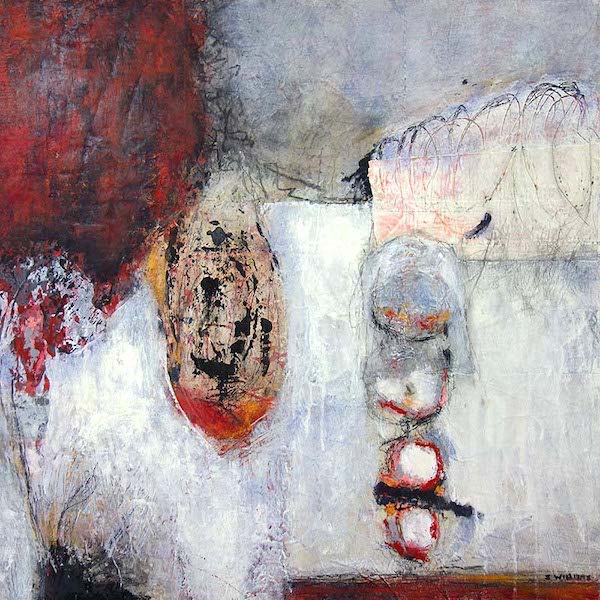 'Points of View', original acrylic painting on gallery wrapped canvas, 24" x 24" ©2019 SOLD
It was an especially meaningful moment for me that affirmed I'd made the right decision. It reassured me that following my instincts to let go of the traditional art-world track of national and international art galleries, was correct. This new direction of representing myself was going to work out ok.
It's a fantastic feeling to be able to add beauty to people's dream homes with original art. It's especially gratifying when I get to meet those people, see my paintings installed in their homes and occasionally develop friendships with them. To have someone appreciate and purchase a piece of original art, is a great honour every artist always appreciates.
My heart is full of gratitude to Tim O'Neill, my new clients and now friends, and all the others who continue to support me on my journey as a professional artist.
Thank you and bless you all.
The Studio Gallery
Open: Wednesday - Saturday 1:00pm - 6:00pm