'It's All Connected'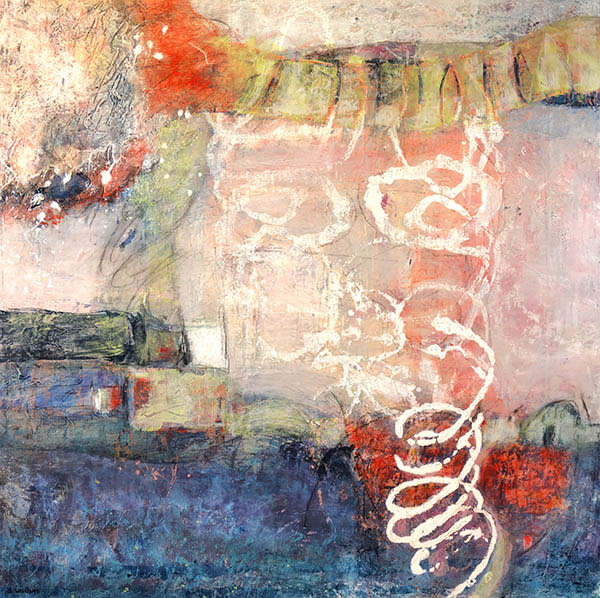 It's All Connected' ID #2019, acrylic on gallery wrapped canvas, 36" x 36" x 1.5" © 2020 Shirley Williams
October 2020
So here we are already into Fall. That means as days get cooler and shorter, we'll be spending even more time at home in the coming months.
Many of you have been busy renovating and sprucing up your homes during this pandemic to make things as special and cozy as possible. Maybe now is the perfect time to think about adding a focal point of colour and texture with an original painting. Who knows perhaps this new painting of the month is your perfect choice.

If you'd like to see it in person, or try it in your home on approval, let me know. I just found this great new app for my phone called ARTROOMS that allows me to insert a painting within a designer room photo, in perfect scale. It's so fun to try different rooms.
The fantasy room below gives you an idea of how this painting might look in a room setting.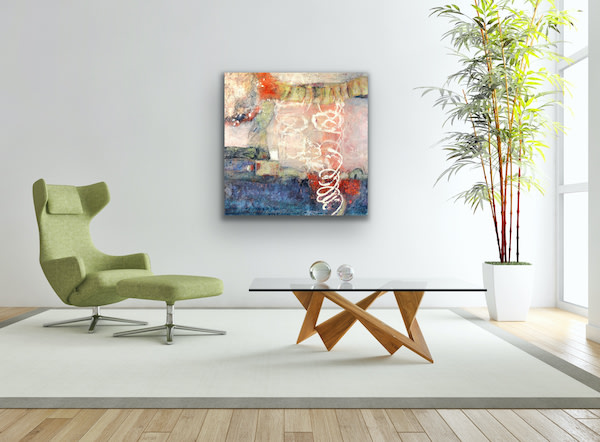 By the way, did you know, I also have a tool right here on my website that's even more awesome.
Just choose a painting you love
Load a photo of the wall where you might hang it
Select LIVE PREVIEW AR (Augmented Reality)

ABOUT THIS PAINTING
'It's All Connected' was painted with multiple, textured layers of acrylic, on professional grade, gallery wrapped canvas. It was inspired by the notion that we are all intrinsically connected. This means we are also affected by seemingly insignificant things that happen around us.

One positive or negative comment or action can unintentionally cause someone to move in another direction entirely. Often, even a random comment can have enormous consequences.

You may have gathered that I enjoy mulling over a nugget of wisdom while working on a painting. It serves as a kind of meditation to keep my analytical mind busy. This practice allows my subconscious to take over and create without over thinking. As a result I'm never quite sure where my painting will take me but it's always a fascinating journey.
Peace
-Shirley