Latest Large Collage


'Circling Back' mixed media hand painted collage on canvas, 20"h x 52"w x 2"d © 2020 Shirley Williams
SOLD

August 27, 2020
This is the first painting I tackled after finally getting back to my daily studio routine at the end of July.

From late March, the upheaval caused by the major renovation to my studio and addition of The Studio Gallery, made it impossible to work creatively. Every single item was either temporarily stored away or totally covered in drywall dust.

So, I was practically doing summersaults when at last, I was able to turn my attention to creating art again. I had missed this daily practice enormously.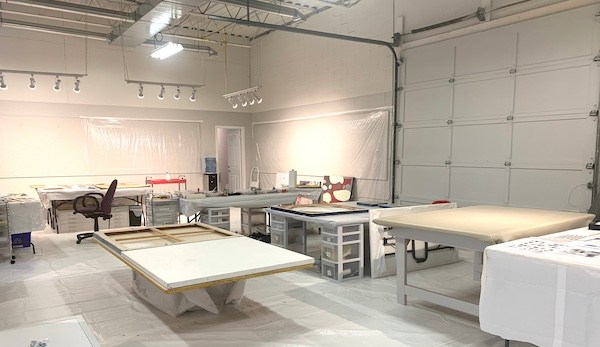 Super clean studio after renovation and before starting to paint again.

Nothing makes me happier than addressing the visual questions that confront me at every turn when I'm painting.
Questions such as:
Should this area be darker or lighter?
How does the eye move around the surface?
Does it work both from a distance and close up?
Does it grab your attention?
Is it unique?"
And on it goes, until, at last, all the questions have been satisfied and the painting is finished.


'Circling Back' - detail - hand painted collage & acrylic paint

I've found over the years that the practice of creating art requires exactly that; practice. It never seems to get easier. The more you explore, the better you get. And the better you get, the more you explore. It isn't something you learn how to do and simply repeat on automatic. It's the 10,000 hours concept plus.

Being an artist is a calling. I arrive at my studio every morning eager to try ideas I'd dreamt about the night before. These ideas often don't work. But there's a moment, when I'm nearing the finish line in a painting, when things suddenly click. It could be the tiniest shift or spot of color that makes the painting go from drab to dramatic. That moment is always worth the 100 or so hours of labor.

Creativity is like a muscle. It must be exercised to stay strong. After four and a half months away from my painting routine, I felt a bit out of shape, creatively. A warm up was definitely in order.

So I painted a whole stack of collage papers to loosen up. Some of these found their way into this painting. The title, 'Circling Back' is a visual metaphor for my recent journey.

---
On another note .....
This pandemic has filled many with fearful thoughts. We must indeed be vigilant.
But let's not allow it to "inter-fear" with our ability to love and appreciate the beauty around us.

Thank you for sharing my journey.

Blessings and stay safe.