ART LIFE NEWS - 2020-01
I've been emailing Art Life News to all my Studio VIP Subscribers sporadically for about 8 years. One of my intentions in 2020 is to be better at communicating on a regular monthly basis.
If you're not already a Studio VIP, learn more and SUBSCRIBE HERE.
Here's a copy of Art Life News (January 2020) in case you missed it.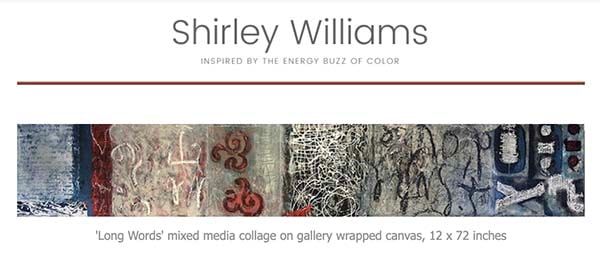 Hi Everyone

About the painting above
One of my latest paintings is an unusual format with dimensions of 6 feet by one foot.
This skinny photo makes it kind of difficult to see here.
Get a closer look and more info.

Most artists consider it a creative challenge to paint a long and narrow canvas. It's especially difficult to keep the eye moving side to side and back and forth. Of course I always gravitate toward a challenge. And to be honest, I love painting these.
Clients and designers especially like this format because it can be hung either horizontal or vertical for those odd spaces that need drama.


The mockups above give you an idea of the versatility a long narrow painting can offer. If you're interested in seeing how it might look in your own space, give me a call.
---
From My Blog
It's always a thrill to see a painting find a new home. Several of my larger paintings were sold in December / January and I was fortunate to receive a photo of one installed in-situ. It could not have gone in a more perfect setting.


'Diptych in Client Dining Room'


With all the panic inducing crazy-making drama in the world at the moment, take a minute to read my short post about a new perspective.


'Thoughts for a New Decade'
If you are in the Windsor / Detroit area, and would like a studio tour, just get in touch anytime.
I respond to phone, email, text, FB Messenger and even a knock at my studio door if you happen to catch me there.
I've begun a new body of work focused on color relationships and you'll be seeing exciting new paintings soon.