Excerpts from The Wealthy Creative
Dec 22, 2017
Genevieve Parker Hill, Author and Lifestyle Coach has just launched her latest book, 'The Wealthy Creative' I would never call myself "wealthy" by any means. But somehow I was selected as one of 24 role models for her book.
Read on for excerpts from the interview.
Most people believe artists need to be either famous or dead before they make any money. What do you think of this "starving artist" perception?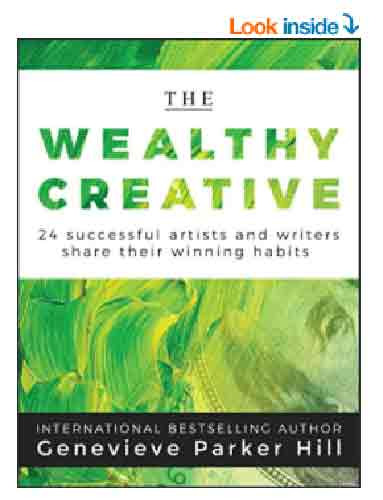 Author Genevieve Parker Hill thinks the idea of "the starving artist" is a myth. So she set out to find proof by interviewing successful, entrepreneurial creatives to discover their habits.
Genevieve reached out to me a little over a year ago. We had never met or been in touch before, so I still don't know how she found me. She simply told me she'd "done her research" to find the best candidates for her upcoming book.
After a lengthy interview, I didn't hear from her again. I just assumed the book had gone by the wayside. But last week I woke up to this lovely little surprise on Instagram. Be sure to FOLLOW ME.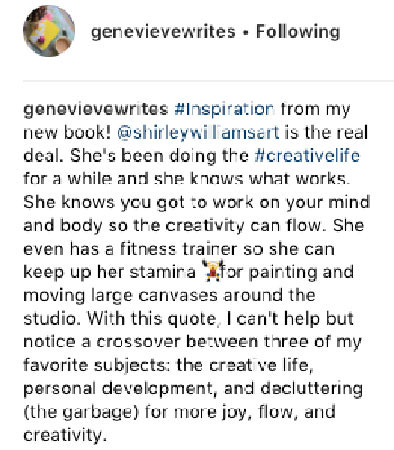 'The Wealthy Creative' by Genevieve Parker Hill was just launched this week and you can get it here.
Although I haven't had the chance to read the book yet myself, let me share a few excerpts from the original interview.
Which of your habits has made the single greatest difference in your financial success from your creativity?

Focusing on a Yearly, Monthly, Weekly and Daily Plan. Staying on track has always meant 'planning my work & working my plan".

Being a successful artist requires wearing so many different hats. It's easy to get pulled off track down any number of time-wasting rabbit holes. A written plan saves time and keeps me grounded.


How have mentorship, accountability, or having strong models played a role in your artistic and career growth?

Although I always yearned for a mentor, there was never anyone to help me through the crazy maze of the art world. Twenty five years ago when I began painting full time, my business / marketing approach to an art career was definitely not the norm. There were no books, career workshops or internet coaches to help navigate a career. Today, information is everywhere. You just need to look.

It was so personally vital to make my career successful that I simply tried things as I went along. It was a "sink or swim" mentality that drove me to succeed. Failure was not an option. There was no safety net financially and I did not want to go back to a job.

In the beginning I read lots of biographies about great artists and the lives of all types of successful women both historical and current. Those who overcame huge obstacles to follow their passions always inspired me the most.

What obstacles, if any, surrounding your attitude about money have you had to overcome? How did you do so?

Many artists have an uneasy relationship with money. Even in today's society, artists sometimes feel embarrassed thinking or talking about making money from their art.

Fortunately, my business background gave me a firm foundation and knowledge of finance. I have my parents to thank even though at the time, studying business seemed like the end of the world. Studying art came after I had the solid business foundation which helped me a lot.

We all deserve to be compensated for our efforts - even artists. To me art and money are simply forms of exchanged energy. You usually get back what you give. In today's world the currency just happens to be money.

If anything, I usually downplay my business skills when talking to a gallery owner or curator. My attitude toward art and money is unusual for an artist and it sometimes makes art world professionals uncomfortable. Artists are still treated paternalistically in in many instances.

Given my business / marketing background I often have more experience than the people who are receiving 50% of my sales to represent me. Professional galleries have played an important role in building my credibility as an artist. However, my own efforts at representing myself have always provided far more income than any of my galleries or art reps ever did.

Are there any habits you've had to develop to create more space or time to do your art?

I've always treated my art career as my job. That means, I get up and go to work. On days when creative motivation eludes me, I work on the business and marketing. My usual routine is 10 am to 6 pm at least five days a week. When something personal comes up, the time gets made up during the weekends or late nights.

The other thing that's always been important to me is having a dedicated studio space, no matter how cramped. When I'm painting in the studio, my computer and cell phone are turned off and the door is shut otherwise it's too easy to get distracted.

How do you build empathy, connection and understanding with the people who enjoy and buy your work?

The average person enjoys art but is usually afraid to appear stupid about asking questions, especially about abstract paintings.

In person, I try to draw people out by asking them open-ended questions about what they're responding to. For example, what they like or don't like about a painting, or how it makes them feel. Once they realize it's ok to express their honest reactions, they relax. They become interested and more confident about their own taste. I prefer to build long-term collector relationships through trust and empathy rather than using pressure.

Building collector relationships online is a new process and has been a huge learning curve. I try to stir people's interest in art generally, by posting unique tidbits about the art world, my inspirations, art quotes, studio photos and of course my own paintings. This seems to generate curiosity to learn more about my work. Since every post is linked to my website, traffic and fans continue to grow steadily.